Contact us about this product
Bespoke Printed Packaging Tape in PVC and Polypropylene
Printed tape is a security seal, unlike standard self-adhesive tape that can easily be replaced.  Printed tape highlights your product in your customers' warehouse; makes your product stand out from the crowd and makes it easier for re-ordering.
We use only the best raw materials for our printed tapes including PVC (vinyl) and BOPP (polypropylene) from well established coating plants throughout Europe and the Far East. and offer a tailored design and manufacturing service aimed  at the image conscious customer, looking to promote their business with custom designs.
Advantages
Printed tape gives instant identification to the goods; whether it's a caution message or handling information, bright eye- catching company colours or large clear information
A popular benefit of printed tape is security, as it can provide a pilfer proof solution offering peace of mind when transporting goods
Custom packaging tape styles
Printed to your own personal specifications
Available in a range of tape qualities PVC , Polypropylene Solvent,  Polypropylene Hot Melt and Polypropylene Low Noise Acrylic
Hand and machine length rolls available and special slit sizes available upon request
Now available on paper tape 
Print options: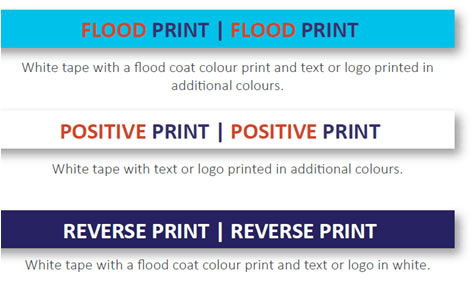 Sizes available:
Widths: 12mm up to 150mm (48mm standard dispenser width) 
Lengths: 20m up to 990m (66m & 132m standard dispenser lengths)
Colour specifications up to 4 colour – all conforming to the Pantone Colour Guide.
Prismatape UK Ltd,
Road One, Winsford Industrial Estate, Winsford, Cheshire, CW7 3RW
Subscribe
Get the latest news and offers
Enquire Here
Interested?
Please leave us your details and we will get straight back to you or call us on: 01606 596600 or drop us an email at: enquiries@prismatape.com
Sell Your Equipment
Please leave us your details and we will get straight back to you or call us on: 01606 596600 or drop us an email at: enquiries@prismatape.com
Please select a valid form